The only thing that I love more than vintage is vintage jewelry.
I know I've written about this before but I can't help myself, besides, it's my blog and I do what I want

Diamonds are classic and one of my all time favorites, but you also have stones like sapphires, opal (LOVE IT!), and rubies. I swoon at the thought of all these beautiful stones (please someone catch me, I'm falling).
Here are a few pieces that have caught my sparkley eyes.
I'll take 9 of these pleeeease! One for each of my single fingers. Not 10 because of my beautiful wedding ring. I think I can pull it off.
Look at this Eternity Band and tell me you don't want to buy it…and wrap it…and write a gift note…then send it to ME! I know you do and I won't stop you. Really! Go ahead and buy it and gift it to me. I'll take it, no problem. I mean, the ring is a size 6 and guess what? My ring finger on my right hand IS a size 6. Come on, really, it's meant for you to buy it and send it to me.
208 brilliantly cut diamonds make this special piece. Imagine 18kt white gold of diamondy, sparkly, eye catching goodness.Please go ahead and e-mail so I can forward you my address when you purchase this masterpiece for me.
I love you…I do…so…go ahead and clicky the Buy Button.
THANKS!
Well, since you already going to pick up that beautiful ring, please go ahead and pick me up this bracelet. Tell me it doesn't remind you of sparkly hurricanes. Antique Diamonds Bracelet Olive Belle Epoque France 1890-1900 available on Etsy for your gifting pleasure.
The thought of a  a little piece of old world Europe hanging from my wrist makes me giddy with excitement. This gorgeous bracelet will WOW anyone within a 20 feet radius. There are 124 rose cut diamonds in this baby…I must sit…this is too much yummy for me.
Please, don't worry about gift wrapping this for me. You've already been very generous with me and I heart you for that.
To that lucky duck who currently owns this amazing bracelet…you…are…AWESOME! So selfless in wanting to sell this piece and not wear it every day…all day…while you sleep. I mean, I would NEVER let this go…EVER!

But I'm not that cool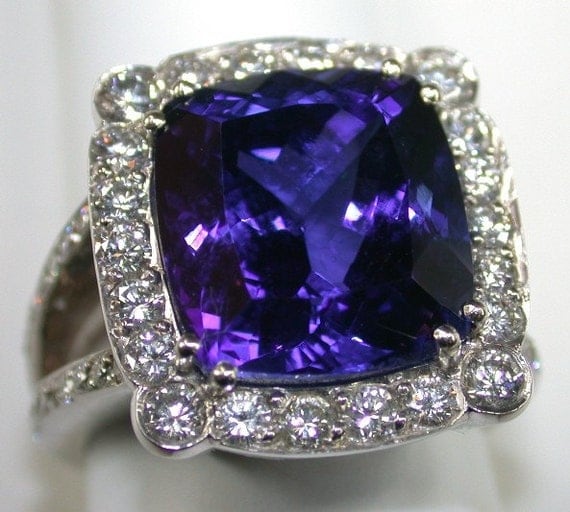 Here is a little story for you: During my younger years (very early 20′s, I'm not 30 yet so don't push it!), I went out on a date with this guy, let's call him Bob. I forgot how we met but long story short I drove about 1 hour to meet up for this date (trust me, I was not planning on doing that again…EVER!). Any who, we went out to dinner, chatted, flirted had some wine. I was looking killer in my cute dress and heels. I know, I still look hot, but I was extra hot that day. Bob seemed to like it.
Well, we called it a night and said goodbye. Got the usual text message that he enjoyed the evening and would like to see me again. We set something up for that Friday. Bob picks me up we head out. During dinner, he presents me with a box. WHOA, slow down cowboy! I know I'm awesome but chill a bit. He opens the box and gifts me beautiful necklace with a diamond and tanzanite pendant and just like that, I was hooked. I was head over heels in love and smitten… with the necklace. I was floored with the color of the tanzanite. I had never heard of it and wondered how I had lived my life not knowing the joy of this stone. We were meant to be together. Oh…what happened to Bob? After 1 more date I didn't want to see the guy again, but at least I have tanzanite and diamonds, together forever.
I found this Diamond and Tanzanite Ring  on etsy today and I am in love with it. I haven't seen a tanzanite this big and I WANT IT!. I love it! I NEED it on my hand. It's a steal at $12,500.
Well, until next time. You are all so awesome <3
♥Michelle♥